Customer Support Serrvice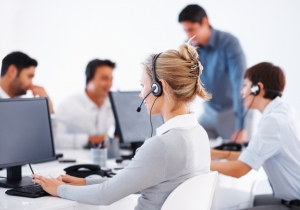 Personalized Communications can offer you and your clients a first rate customer support team with professional agents to manage all your companies outsourcing needs. In the fast paced, high technology world of telecommunications, Personalized Communications is recognized as an industry leader in call center outsourcing services providing trainedcustomer service professionals. Each call taken in our call center means more profits for your business. Call center outsourcing is an efficient way to keep costs down. These savings can be passed on to you and your clients. Our call center management solution will give you the peace of mind to concentrate on running a business.
Our agents can be your answering service, order takers, technical troubleshooters and product support personnel.
We can train our staff to do just about anything your business requires when it comes to customer support. Our call center can handle calls from all of your clients locally, nationally and internationally. Your clients will appreciate well trained easy to understand agents based in the United States.
Our corporate culture is permeated with specialized training for every account. Working as your partner means we take your business seriously. You can expect your calls to be handled the same way you would handle them personally. Our Training Coordinator works directly with our clients to develop a call flow model that matches the expectations of each client. We then implement a training process that includes role-playing and product knowledge testing before taking the first call. You can be confident that we use our best practices when keeping your business in mind.
Personalized Communications can tailor a solution based on your specific requirements. Let our experience make your business look better than ever before. Contact Personalized Communications today. Let our company tailor a dynamic plan for outsourcing your call center needs.
Or give us a call at 1-800-606-9898.
Our friendly staff will be happy to talk to you and learn about your business needs.